2020 Illinois Tax Change
HELP REPEAL THE $10,000 CAP ON TRADE-IN ALLOWANCE
Illinois state sales tax on future vehicle purchases will be going up for Illinois residents!
As a valued customer we would like to share some information regarding the new Illinois state law titled "Leveling the Playing Field for Illinois Retail Act." This law takes effect January 1, 2020 and caps the tax credit from a trade allowance at $10,000.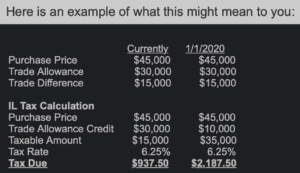 This new law could increase your Illinois state sales tax by thousands of dollars. Trade your vehicle before 1/1/2020 to receive full tax credit for your trade in and pay the least of amount of Illinois state sales tax possible!